Sadly, pics from my POTTERVENTURE are being cruelly held hostage by Kaitlin's camera, so my costume post will have to wait.
I can't believe there's only a week left in July! The month went by so fast...but even with so little time left, there are a bunch of things that I'm still looking forward to.
The return of the always fabulous and often concerned Tim Gunn to television! By which, of course, I mean
Project Runway
! The last few seasons (ever since they moved to Lifetime) have been a little below par by my tastes at least, but the cast list for this season looks like it could be full of both drama
and
talent. (You need both to make a competition show run!)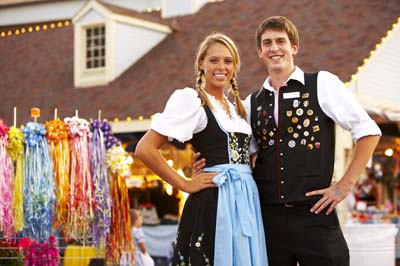 Via PRWeb.com
Germanfest! One of my first posts on Fickle Kitsch was about how much I love
dirndls
, traditional German folk dresses. I still love them, and I can see dozens of them on the Germanfest grounds while I enjoy some good ol' oom-pah-pah bands and a huge plate of spanferkel. It's true, spanferkel (aka suckling pig) is pretty much my favorite part of the summer. If I could, I would spend an entire day at Germanfest just so I could have spanferkel for lunch and then again for dinner.

Photo by Leo Reynolds
My birthday! I'm going to be turning 22 at the end of the month (same birthday as Harry Potter, what up!). Hopefully I'll have a friend or two fight the post-college sprawl to come back and spend the day hanging out in the city with me (although that might not happen until August). And I'm sure that I'll have a great dinner with family. I've seen a few bloggers post a "dream birthday party" post, so I'll probably whip one of those up as the day gets closer.
And this afternoon, I'll be going shopping to help my baby sister get everything she needs for her dorm. They grow up so fast!
What do you still have to look forward to in July?